The University of Kentucky is participating in a nationwide study that seeks to understand why some people have prolonged symptoms (long COVID) or develop new or returning symptoms after an acute bout of SARS-CoV-2 infection. Dr. Greg Davis talks with Zach Porterfield, M.D., Ph.D., assistant professor in the UK Department of Microbiology, Immunology and Molecular Genetics, who is co-leading the study.
For this series, we are bringing together top-rated medical professionals, industry experts, patient advocates and policymakers to update our audience on the latest advancements to combat the virus. In this first event, our focus will be innovation and treatment; we will explore from three perspectives how our country can accelerate research and innovation toward treatments for patients suffering from COVID-19. The following installments will focus on the path to a vaccine and the long-term impact of this crisis on health care policy.
VITAL began with a search for answers on why HIV-positive patients had an increased risk of blood clots. The team has studied populations in Kentucky, and was beginning to examine HIV-positive patients in Durban, South Africa, through a collaboration with the African Health Research Institute led by VITAL team member Zach Porterfield, MD, PhD, assistant professor of microbiology, immunology, and molecular genetics.
This week Dr. Greg talks with Zach Porterfield, an infectious disease expert, virologist and assistant professor of medicine at UK, about the university's collaborative approach to tackling the COVID-19 Global Pandemic. Dr. James Zachary Porterfield is an Infectious Disease Specialist in Lexington, Kentucky. He graduated with honors from University Of Oklahoma College Of Medicine in 2012.
Clinical leaders from the University of Kentucky's Markey Cancer Center, College of Medicine and College of Pharmacy have launched a clinical trial for experimental therapies to treat patients infected with COVID-19. The trial will investigate the effectiveness of azithromycin, ivermectin and camostat mesylate—drugs that could inhibit replication of SARS-CoV-2, the virus that causes the disease. The three will be tested either as stand-alone therapies or in combination with the antimalarial drug hydroxychloroquine.
A new study by University of Kentucky College of Medicine researchers outlines a medication plan that may be a key to treating those suffering from opioid use disorder. The research was presented at IDWeek, the joint annual meeting of the Infectious Diseases Society of America (IDSA), Society for Healthcare Epidemiology of America (SHEA), the HIV Medical Association (HIVMA), the Pediatric Infectious Diseases Society (PIDS) and the Society of Infectious Diseases Pharmacists (SIDP).
A planned trip this summer to Cape Town, South Africa, will mark the first time in the Yale Alumni Service Corps' (YASC) decade-long history that Yale faculty have accompanied the volunteers. It's an important milestone, says Joao Aleixo, director of the YASC, as the program, sponsored by the Yale Alumni Association, looks to further strengthen its ties to the university and provide an experience that is not only meaningful to trip participants, but one that offers real improvement to the communities they serve.
While working in South Africa several years ago, Dr. J. Zachary Porterfield came across a young child in a clinic in rural KwaZulu-Natal. During the examination, the doctor was surprised to find that the patient had drainage from her ears and loss of hearing. "It had progressed to the point that she was having difficulty in school," said Porterfield. "When I asked her mother how long this had been going on, she said three years. Her ears had been draining, and she had been losing her hearing for three years."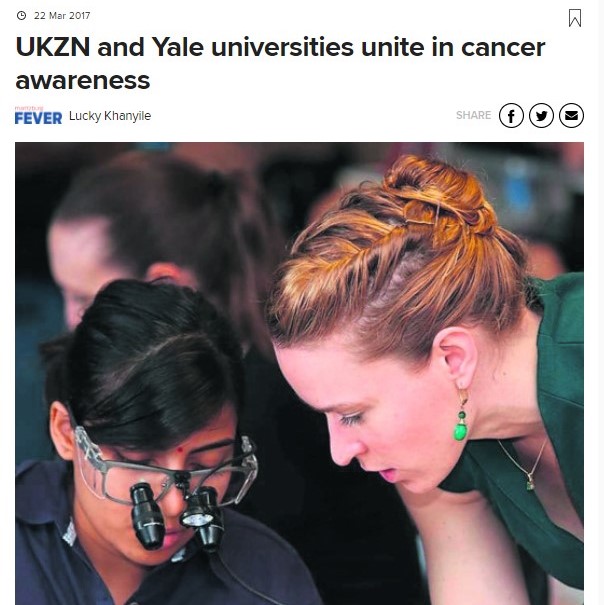 The University of KwaZulu-Natal in partnership with Yale University launched an outreach programme last week to educate the public about head and neck cancer. The programme is one of many between the two universities, which joined forces three years ago. Specialists from the U.S. and South Africa began visits to health care facilities around the city starting with Grey's and Edendale hospitals where they educated health staff about spotting the cancer at an early stage.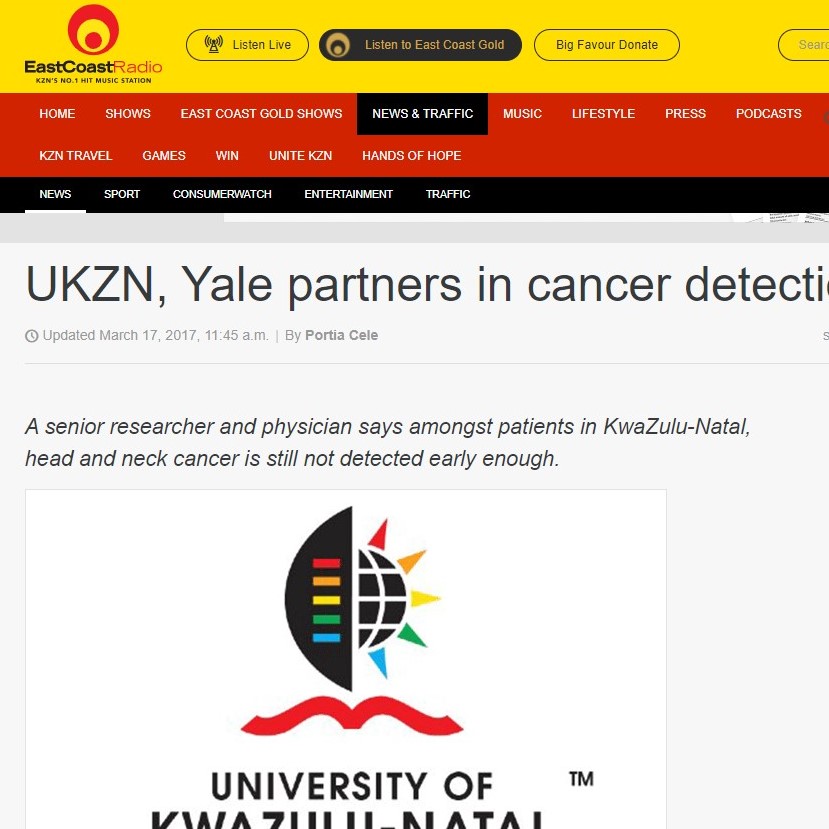 Yale University's Dr. Zachary Porterfield has been speaking in light of a symposium that has taken place at the UKZN's medical school campus yesterday. The event stems from a partnership formed with the Yale University in 2015 to address public health issues in the province. This year's event highlighted early detection and treatment of cancer in the field of otolaryngology - which covers the ear, nose, and throat.
The inaugural UKZN-YALE Otorhinolaryngology and Head and Neck Surgery (ENT) Research Symposium was held at the Nelson Mandela R. School of Medicine to discuss health care needs in the field and ways in which international partnerships can address growing disparities worldwide. The Symposium, is part of a second year of a collaboration between UKZN's ENT Department and Yale University. The relationship began when Yale's Dr Julia Toman and Dr Zachary Porterfield were introduced to ENT's Head of Department Dr Yougan Saman at the 2015 ENT/SAAA/SASLHA congress in Durban.
A Glimpse Inside our Lab...