Yakobi A, Porterfield JZ, Toman J, Spock T, Kapil N, de Meyer J, Kejner A, Rea P, Gleeson M, Enicker B, Michaelides E, Saman Y. HIV, Tuberculosis, and Otogenic Intracranial Sepsis: A Devastating Disease With a Subtle Presentation. Otol Neurotol. 2019;40(7):e704-e12.
Roider J, Porterfield JZ, Ogongo P, Muenchhoff M, Adland E, Groll A, Morris L, Moore PL, Ndung'u T, Kloverpris H, Goulder PJR, Leslie A. Plasma IL-5 but Not CXCL13 Correlates With Neutralization Breadth in HIV-Infected Children. Front Immunol. 2019;10:1497.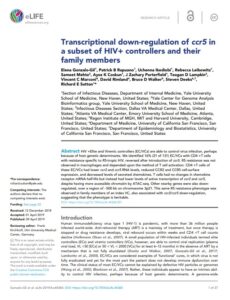 Gonzalo-Gil E, Rapuano PB, Ikediobi U, Leibowitz R, Mehta S, Coskun AK, Porterfield JZ, Lampkin TD, Marconi VC, Rimland D, Walker BD, Deeks S, Sutton RE. Transcriptional down-regulation of ccr5 in a subset of HIV+ controllers and their family members. Elife. 2019;8.