A LITTLE ABOUT THE PI
Dr. Zach Porterfield, MD, PhD
Zach Porterfield is a physician-scientist with PhD training as a virologist and clinical training in Infectious Disease who is appointed Assistant Professor at the University of Kentucky in the Department of Microbiology/Immunology, the Division of Infectious Disease, and the Department of ENT Surgery.
His basic science interests focus on informing vaccination and cure efforts for HIV through study of factors that modulate infectivity in HIV and the tissue reservoirs where HIV remains hidden from the immune system. In addition, his lab has a strong translational and clinical research focus with work on the interface between clinical care and research and major projects focused on Dissemination and Implementation of best practices in rural and at-risk populations.
He is currently the Principle Investigator of the adaptive drug trial for COVID-19 at the University of Kentucky and supports seven other clinical trials for COVID-19 in addition to serving on advisory boards for the clinical and research response to the pandemic.
Post-doc & Graduate Trainees
Maybe You?
Post-doc

The Porterfield Lab is currently accepting applications for a postdoctoral position.
Please email zach.porterfield@uky.edu to inquire.
Reni Scaringello
Graduate Student

Reni is a second year PhD student in the Porterfield Lab (MIMG). She graduated from Virginia Commonwealth University with a B.S. in Medical Laboratory Sciences and has worked in a clinical microbiology and core lab. Reni is currently working on characterizing the immune response to HPV-postive oropharyngeal cancer.
During her free time, she enjoys yoga, running, home renovations, and spending time with her husband and two dogs.
Ryan Weeks
Research Program Coordinator

Ryan is a clinical research professional with over a decade of experience working on industry, NIH, and investigator initiated studies under GxP regulatory framework. A Lexington native, Ryan completed his undergraduate education at the University of Kentucky, where he studied Psychology and Philosophy. After graduation, he started working as a laboratory technician in a non-human primate lab focused on neurodegenerative disorders, sparking his passion for research. Over the subsequent decade, he transitioned into human primate research, and currently manages research trials for the division of Infectious Diseases. Ryan has a particular enthusiasm for working with marginalized and underserved populations, especially those within the LGBTQIA+ community and those with substance use disorders.
Outside of working hours Ryan can be found spending time with his wife, daughter, and two dogs, renovating his 1920's cottage, tinkering with his old motorcycles, playing music, and getting hurt riding BMX.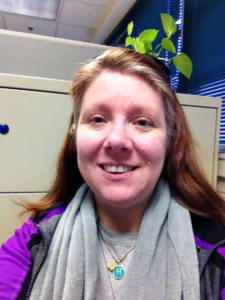 Melissa Hollifield
Senior Scientist

Suzanne Burchett
Clinical Research Nurse

Suzanne Burchett is a registered nurse with over ten years of experience at large teaching hospitals in both North Carolina and her native Kentucky. She has a BA from Tulane University, a BSN from Louisiana State University, and a MEd from the University of North Carolina at Charlotte. She has worked in a variety of nursing units during her ten years including: Medical Intermediate Unit, Neonatal ICU, and Endoscopy.
Her passions include deep sea fishing, cooking, Saints football and UK basketball. She loves being back in Kentucky after thirty years away, and enjoys Keeneland, hiking at the Red River Gorge, and being close to family.
Frazier Moore
Lab Tech

Frazier is a laboratory technician in the Porterfield lab. Prior to joining the Porterfield Lab, he spent two years in Dr. Garvy's lab at UK working with Pneumocystis. Frazier graduated with an Associates Degree in Biotechnology at Bluegrass Community Technical College.
During his free time, he likes to spend time with his wife and three kids, a two year old toddler and two-month old twins.
Fellows, Residents & Medical Students
Jordan Resnick, MD
Infectious Disease Fellow

J.T. Henderson
Medical Student (M4)

J.T. is a fourth year medical student in the Porterfield Lab. He is a graduate of Transylvania University and is planning to complete an Internal Medicine/Pediatrics residency program after medical school. J.T. is completing work related to infectious complications of injection drug use and the VITAL Alliance's work on hypercoagulability in COVID-19.
He loves spending time with family and friends, playing and watching tennis, running with the West 6th Run Club, and finding every possible excuse to eat ice cream.
Anne Mason
Medical Student (M3)

Anne Elizabeth is third-year medical student in the Porterfield Lab. Before entering medical school, she completed her bachelor's degree in public health at Davidson College. Throughout her undergraduate years she researched social and economic barriers to combating childhood mortality secondary to infectious causes. She studied abroad in Morocco and Zambia where she researched maternal roles in healthcare access. Her research interests include the intersection between infectious diseases, cultural practices, economics, and public policy in underserved populations. Currently, Anne Elizabeth is working on understanding the barriers for children to access follow-up care for hearing deficits in Cape Town, South Africa.
Nicole Robertson
Medical Student (M3)

Nicole is a third-year medical student in the Porterfield Lab. Before entering medical school, she completed her Bachelor's degree in public health and biology at the University of Louisville. Throughout her undergraduate years she researched cervical cancer and respiratory disease in rural and urban regions of Uganda. She then completed her Master of Public Health degree at the University of Edinburgh in Scotland. Her research interests include the intersection between communicable and non-communicable disease, respiratory disease, rural health, and community health interventions in underserved populations in low- and middle-income countries. Currently, Nicole is researching prior tuberculosis diagnosis as a risk factor for the development of chronic obstructive pulmonary disease (COPD) and its effect on lung function in Nepal, Peru, and Uganda. Additionally, she is beginning a translational research project evaluating the inflammatory response in COPD among people living with HIV in Uganda.
Jess Sizemore
Medical Student (M2)

Jess is a second-year medical student in the Porterfield Lab. Prior to medical school, he received his bachelor's degree in biomedical sciences with a minor in traditional music from Morehead State University. Jess is currently researching the use of music to promote hearing loss identification, screening, and awareness among children in rural Kentucky.
He enjoys rock climbing, reading fantasy novels, and playing fiddle either with his band South Upper String Band or at the weekly old-time music jam at Rock House Brewery.
Angelica Solomon
Medical Student (M2)

Angelica graduated from the University of Florida with a bachelor's degree in biology and a minor in studio art. She went on to complete her Master's in Medical Science at the University of Florida College of Medicine where she studied the role of heme and hemopexin in the pathogenesis of invasive pulmonary aspergillosis. During her first year of medical school, Angelica was accepted into the research concentration and was also awarded the Professional Student Mentorship Research Fellowship to study key themes emerging in COVID-19 clinical trial participation with Dr. Porterfield. Within the Porterfield lab, she is also working on VITAL Alliance's work on hypercoagulability in COVID-19. This past July, Angelica was awarded the 2021 Saha Awards for Cardiovascular Research and Education for Outstanding Medical Student.
During her free time, she loves playing sand volleyball with her friends and getting lots of cuddles from her dog, Doak, and her cat, Daisy.
Ivory Simon Okube
Medical Laboratory Student
GRADUATED DECEMBER 2021!
Ivory has completed UKY's Medical Laboratory Science program and is on the pre-med track. She is officially a board certified MLS (ASCP)! Additionally, she is working with Dr. Porterfield and Reni to outline the most efficient method of international specimen transport that will preserve T lymphocytes and maintain specimen integrity.
During her free time, she enjoys spending time with her family, watching K-dramas and listening to K-pop, cooking, knitting amongst other arts and crafts, singing, and reading.